The Process
Working with a coach doesn't mean you've failed—it means you want to grow.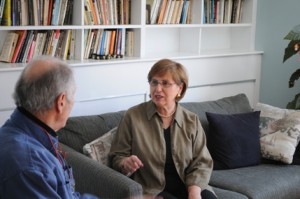 Many of my new clients are reluctant to come, yet once we begin they find they really enjoy the process of improvement.
Coaching is a collaboration that leads to you taking action and getting results, with increased fulfillment and satisfaction. It's a unique partnership … and it really can change your life.
My coaching certifications include "Professional Certified Coach" (PCC) from the International Coach Federation, and "Certified Success Coach" from the Success Unlimited Network ® (an International Coach Federation credentialed school that focuses on intensive one-on-one training).
How we'll work together
No matter why you come to me for coaching, the basic process we'll go through together is the same. Along the way we'll make adjustments to meet your personal style and needs.
Your first session is free. We'll get together in person or on the phone, you'll tell me about yourself, I'll explain how I can help, and we'll see if there's a good fit.
Then, we'll begin the work:
Creating the coaching plan
We'll start with an open but guided discussion that clarifies, quantifies, and prioritizes the areas that need attention and the results you want to achieve. I'll help you understand your strengths and needs in relation to the responsibilities you now have (or would like to have in the future).
The coaching process
We'll then meet once every 2-3 weeks, typically for a total of 16 hours. Using a variety of proven techniques we'll work together to move you forward toward your desired results. We'll discuss what's working and what's not, and we'll come up with practical ways for you to better deal with your challenges and responsibilities. We may also decide to work on areas of your personal life that affect your professional development. We can adjust the number and frequency of meetings as necessary.
Feedback/evaluation
Throughout the coaching process you'll give me feedback as to how it's working for you, and you'll reflect on your successes. I'll give you my feedback, and I'll keep you focused.
When necessary, through my large network of contacts, I'm able to refer you to other qualified professionals who can help you in additional ways.
The tools
I use a variety of formal and informal tools and assessment instruments in my work with clients as appropriate, including:
360 Degree Survey Process
360 Degree Interview Process
Situational Leadership® II
Thomas Kilmann Conflict Mode Instrument
Myers-Briggs Type Indicator
EQ in Action Profile
Hogan Personality Inventory
Hogan Development Survey
Retirement Success Profile
Where we'll meet
My office is located in Marin County, California. I also offer coaching over the phone, and via Skype or FaceTime.
Confidentiality
Confidentiality is very important to me, and all conversations we have are private. We can discuss any additional concerns you have when we meet.
What I ask of you
In order for the coaching process to work, I'll need your commitment and honesty. What you can expect from me is a focused, comfortable, clear structure to help you deal with your issues and succeed. We'll do the bulk of the work together—recognizing, strategizing, solving problems, and creating innovative (and often outside-the-box) solutions. Creating openness between us is a crucial part of my approach, and is essential for your success.
Next: My Qualifications